What is 123 planting box
A great value—you name it, you can grow it! Poor soil conditions and small backyards are no match for this patented container gardening system. Developed by commercial farmers and proven in the lab and on the farm, you get "great results no matter what color your thumb is," because this maintenance-free growing system controls soil conditions, eliminates guesswork, and more than doubles the yield of a conventional garden—with less fertilizer, less water, and virtually no effort. Just add plants, water, and sunlight for an easy garden that requires no digging, no weeding, and no guesswork! Grow tomatoes and other robust vegetables and aromatic herbs in any small space—a balcony, patio, or even rooftops! This revolutionary SIP (Sub-Irrigated Planter) is even ideal for urban garden settings since its compact size allows you to grow healthy, fresh—even organic! —food where it never grew before! Unlike other raised bed gardens and planters, 123 planting box--- gardening system is self-watering, sustainable, easily movable and portable, and can even be used to grow indoors. Now that's one smart garden!
Planting box Features:
(1), Corrosion resistant, Strong and Durable.
(2), Acid resistance, alkali resistance.
(3), UV protection.
(4), Low friction coefficient, high value of utilization.
(5),Automatic suction, Breathable.
(6),Out of shape not easily.
(7),Meet different size requirements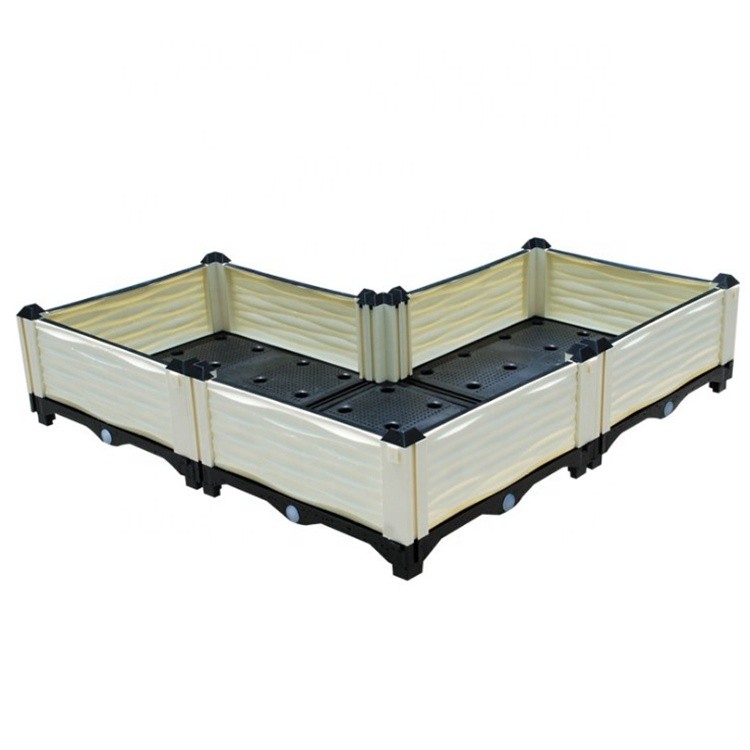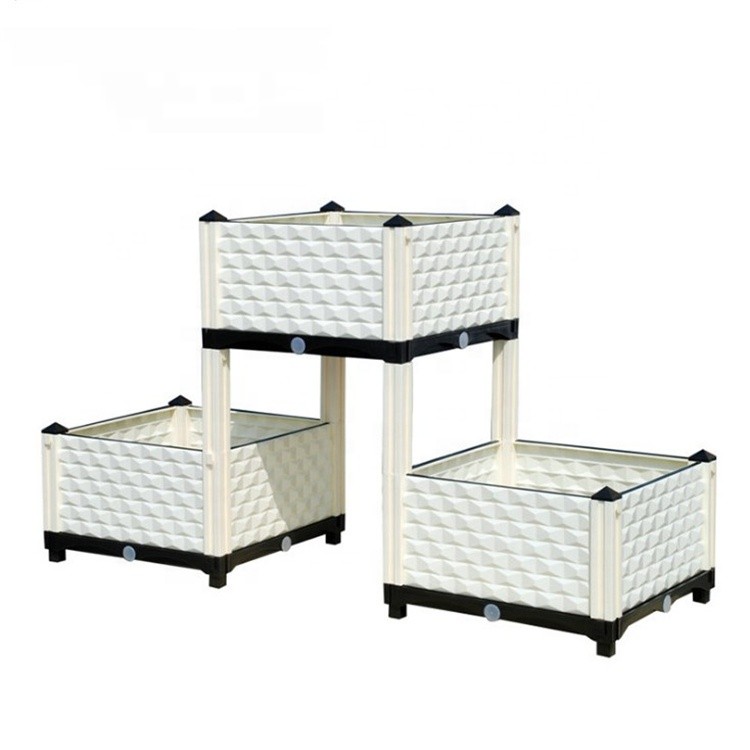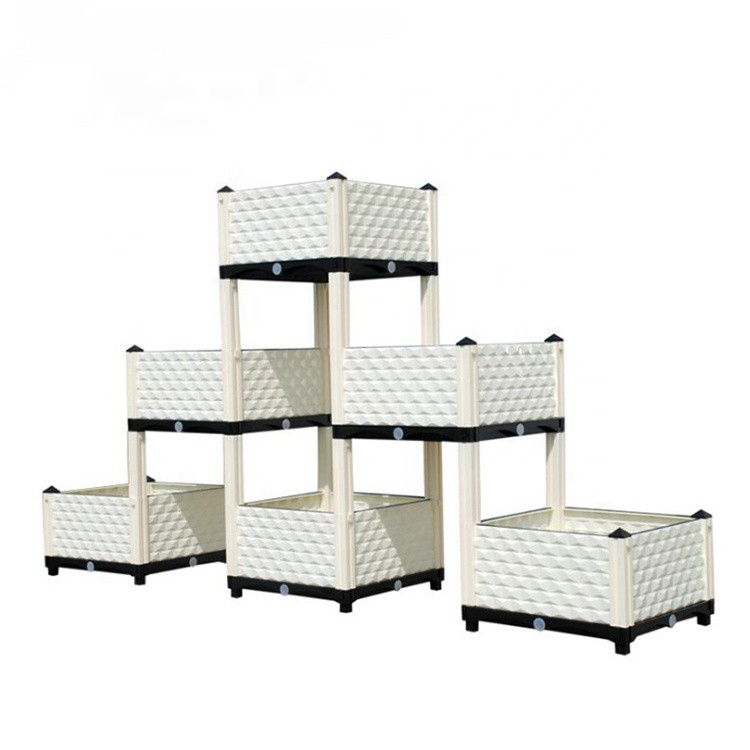 Product Application Scenario And Planting:
Terrace garden, Office, Home furnishings, Home gardening, Garden nursery, Hotel and So on.
Planting: Cucumber, Tomato, Towel gourd, Balsam pear, Lentil and others.
Planting: Cabbages, Lettuce, Chinese cabbage, Bitter lettuce, Pepper and others.
Planting: All kinds of Flowers.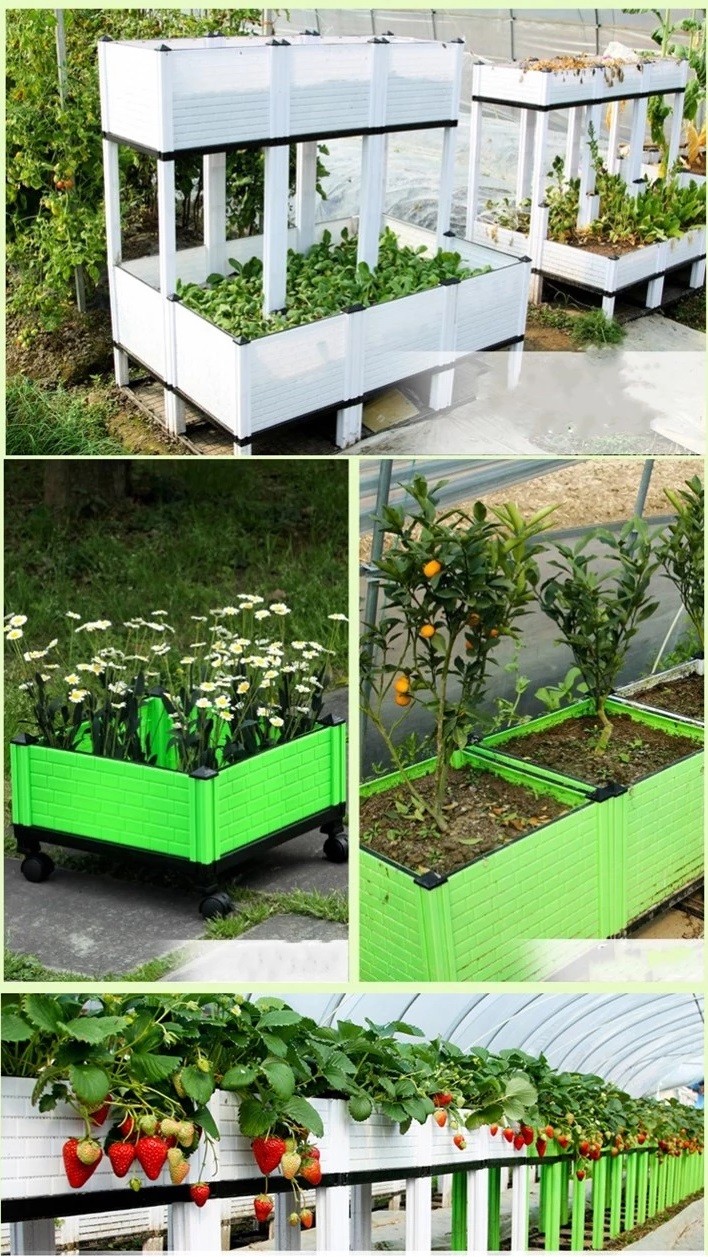 How to assembly?
1. To fit wheels into tank
2. To fit side panels into tank
3. To fit pillars to connect side panels and Tank
4. To fit decorating caps to pillars
5. To fit decorating straps to side panels
6. To fit cotton to gauze pad
7. To put gauze pad on tank
8. To fill nutrient soil in to planting box and keep one end of cotton out of soil.
Remark: To Absorb water from tank automatically by cotton